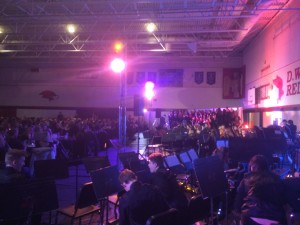 Wayne and I are in the middle of our run of elementary holiday concerts so my apologies for the delay in the sending this out, but now that the dust has mostly settled from ESPRESSIVO 2017, we wanted to take a moment to thank everyone for all their hard work and the support everyone showed our kids that evening. We're very excited to say that we have made over $8000 and are still receiving funds for the last few Silent Auction items.
A few notes:
There are a just a few auction items still awaiting pickup. We'd greatly appreciate wrapping that up before the holidays if at all possible. Please mail me at mfollett@sd35.bc.ca and we can organize a pickup time this week either in the music room or the office.
There is a very nice pair of sunglasses left behind. Let me know if you lost a pair.
Mark your calendar for December 5, 2018 and we hope to see you then!
Thank you to all the families, business and organizations who donated items to our Silent Auction. Also a thank you to TNT Wraps, Helm's Mobile Kitchen, Shake & Cheese and Big Red's Poutine for offering food service for our event. To all the parent volunteers who made the evening happen, especially Cathy Gropp and Laurel Horn who spearheaded the evening, it would never have happened without you.
Thank you all so very much for your ongoing encouragement and support of your child's love of music!