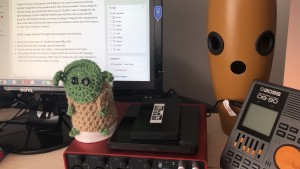 I hope everyone is doing well and thank you so much to everyone who has already responded to the questionnaire that went out earlier. I have setup the Concert Bands, Jazz Bands and CLE9 class in TEAMS. I sent a message for the kids yesterday in their CONCERT BAND team with the code to join the full group for all the band classes as we are working to help get kids connected for next week. Many kids haven't seen it yet so I wanted to reach out a few ways to be sure they are able to connect
STEPS to login and join the larger music group tor our check-in:
Please have them log in to TEAMS through Office 365
Have them find that message I posted yesterday
Use the code to join the "Mr. Follett – Instrumental Music 8-12" team
I have three 10 minute check-ins today and I'll add two more for Tuesday. Students just need to pop in to ONE (only 1) of those for just a few minutes to check in so I know they're able to connect.
If your child is having any challenges logging In (not just for music), please email me and I'll help them out.
There will be no music content rolled out until next Thursday so the kids have Tuesday and Wednesday to get their feet under them with their academics. (I'll continue to post fun stuff through dwpoppymusic.com, FB and Instagram.)
Thanks so much and stay safe.
Mr. Follett
PS – If you have not completed the music questionnaire, I emailed out again today at about 10:30am. Let me know if you need it sent again.