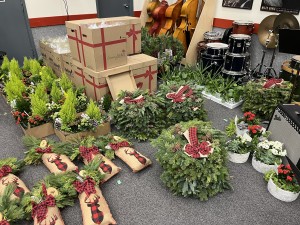 Thank you again to Mrs. Gropp for running our Poinsettia Fundraiser again this year. It looks like we raised approximately $900 for individual student accounts so thank you all for supporting your child and music at Poppy!
As we head into the final week of school before winter break, a quick reminder that we have lots still going on in the band classes. All concert and jazz bands have their winter (audio-only) recording sessions next week for their holiday tunes:
Band 8: March of the Magical Toys
Band 9: Beethoven's Fifth Christmas
Band 10: Themes from the Nutcracker
Senior Wind Ensemble: The Twelve Days of Christmas
Junior Jazz Ensemble: Greensleves
Senior Jazz Ensemble: Christmas Time is Here
These recordings will be made available by the end of next week!
Concert Bands also have their solo and chamber music presentations in class next week:
Band 8 and 9 have solo performances in class on Monday and their Chamber Ensembles (Duets, Trios, Quartets, Quintets) and their Full Recording Session on Wednesday.
Band 10 have their Chamber Music and Full Recording Session on Tuesday and solo performances in class on Thursday
Senior Wind has their Recording and Chamber Ensembles on Wednesday.
Please encourage your grade 8-10 child to take a few minutes and play their solo work and to share the recording the receive of their chamber group.